Welcome to the ConstellationCenter Library and Archives online catalog.  With this catalog, you can search the entire ConstellationCenter collection.  
Our library has two purposes:  to provide resources for our ongoing research and design process; and to document the design process itself. 
If you have any questions, please feel free to contact our librarian, Susan Cole via e-mail at scole@constellationcenter.org, or call our offices Monday through Friday, 9AM-5PM.
Use Policy: This is a non-circulating collection.  Researchers wishing to visit the library are encouraged to contact Susan Cole at 617.939.1900.  Permission to use the collection is decided on a case-by-case basis.
Click here to search the ConstellationCenter Library and Archives.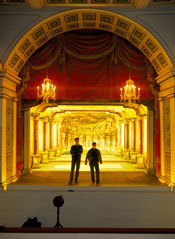 A portion of the research team
on stage at Eckhof-Theater,
Gotha, Germany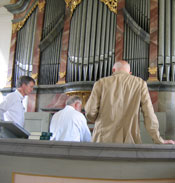 ConstellationCenter research team at
Störmthal, Germany