INTRODUCTION
Dear Friends:
Welcome to the new online home of ConstellationCenter!
ConstellationCenter began several years ago as a vision of a unique performance space in the Greater Boston area.  What sparked my idea initially was a desire to recreate, and possibly even surpass, the great experiences I have had in classic movie theaters in my hometown of Los Angeles.  I soon realized, however, that Boston audiences and performers craved a greater choice of venues—not only movie houses but also performance spaces for all kinds of music, opera, dance, and theater.  As my concept for a comprehensive performance center crystallized, I began to build a team of acousticians, engineers, architects, business planners, and other specialists to help realize this dream.
Together, we began the painstaking process of interviewing audience members, representatives from arts organizations, community leaders, and performers.  We explored the astonishing depth and variety of the Boston arts scene.  The Boston area is home to over 500 cultural arts and performing groups, each with its own particular needs and focus and all competing for the surprisingly few suitable performance spaces.  This knowledge made ConstellationCenter's mission increasingly clear.
Our original vision expanded into a plan for five halls within one building, each one designed to serve multiple kinds of compatible performances, accommodating local, national, and international arts groups, unlike any other facility.  The vitality of the variety of experiences possible in such a facility inspired us.  Just as exciting was the realization that we could create a self-sustaining cultural center that would give back to the arts and the community.
We have spent the past nine years identifying, researching, and defining critical elements of ConstellationCenter's design criteria enlisting the help of industry experts and completing ground-breaking research of our own to ensure a comprehensive plan for our future complex.
The Center's online home aims to walk you through the next steps in our work of building a revolutionary place for cinematic and performing arts.  Frequent updates from project leaders in all fields, access to archived project material, downloadable information packets, profiles on team members, and new means of interaction with team members will provide unprecedented access to ConstellationCenter and our dream.  In particular, be sure to log onto our "News" page for the most up-to-date developments surrounding the project.
Thanks to the passion, expertise, and generosity of our donors, staff, advisors, and volunteers, we have made tremendous progress.  Our dream is becoming a reality.  We invite you to join our team as we embark on the final stages of our journey.  Help us complete ConstellationCenter.  Reach for the stars!
Sincerely,
Glenn KnicKrehm
President, ConstellationCenter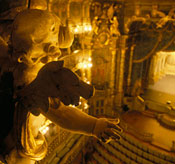 Detail of Markgräfliches Opernhaus,
Bayreuth, Germany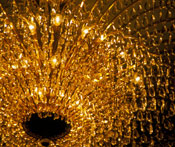 Detail of chandelier at
Markgrafentheater,
Erlangen, Germany
L'Opera Royal Theatre at
Versailles, France