Introduction
The Great Hall | Odeon | Oratorio | Jewel Box | Music Salon
ORATORIO
Seating approximately 250, the Oratorio is a rectangular room based on the size and shape of primary ceremonial rooms found in Renaissance palaces.  It incorporates two small balconies, one at the rear of the room and one on the side, offering a range of options for performance locations.  Having no fixed stage or seats, the Oratorio will be a highly flexible space ideal for performances ranging from historic music to new media.
Rooms the size and shape of the Oratorio have a long history as ceremonial and musical spaces.  Precedents range from sacred spaces such as the Oratorio del Gonfalone and the Oratorio Crocifisso in Rome, to secular rooms such as the Déjeuner Salon in Drottningholm, Sweden.  Historical uses of these rooms included ceremonies, banquets, tennis matches, dances, and religious services.  They also served as the context for a broad range of musical types, including chant, Renaissance polyphony, small-scale secular and sacred instrumental music, small-scale polychoral music, oratorios, and cantatas.  For the modern performer of these musical genres, the room will offer exceptional acoustics in an intimate, historically informed setting. 
Spaces the size and shape of the Oratorio are also well suited for contemporary performances.  By employing a well-designed variable acoustic system and state of the art audio and video technology, the room can be transformed into an interactive environment for a wide variety of multimedia performers and researchers.  The space will be ideal for electronic and experimental digital arts, contemporary classical music, jazz, rock, and independent film.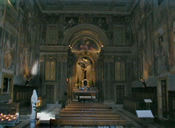 Interior view of
Oratorio del Santissimo Crocifisso,
Rome, Italy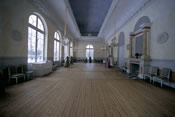 Déjeuner Salon at the Drottningholms
Slottsteater, Sweden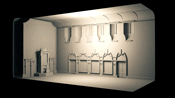 Acoustical model of Oratorio