Introduction
The Great Hall | Odeon | Oratorio | Jewel Box | Music Salon
MUSIC SALON
The smallest of the five halls, the Music Salon, captures the style of rooms responsible for inspiring some of the most renowned chamber works ever composed.  Seating 100, this hall provides an intimate space suited to chamber music, small ensemble music, art-house and independent film, cyber and digital arts, and visual art exhibits. The room will also accommodate educational seminars, lectures, classes, presentations, banquets, and private parties.   
The Music Salon is based on the size and shape of historic music rooms like the Music Room in the Hotel Singer-Polignac in Paris and various renowned European stately homes and palaces.  With the ability to mimic the intimacy of a home, royal chamber, salon or coffee house, this hall offers an atmosphere conducive to interaction between performer and audience.  This space is historically associated with improvisation and musical dialogue, scenes reminiscent of the Mozart family gathered around the spinet or the Carter-Cash family sitting 'round the living room singing songs.  In the Music Salon, the audience is privy to the more private and personal moments of a performance.
Seating 100 and equipped with state-of-the-art digital audio and visual equipment, the stage and seats are movable and removable, allowing for flexible programming.  The Music Salon is an ideal space for solo recitals, local and national independent films, private screenings, celebrity events, film festivals, lectures and symposia, award ceremonies, and art events.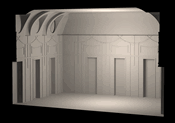 Acoustical model of
Music Salon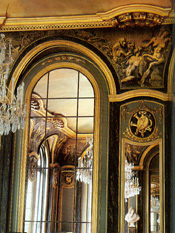 Detail shot of Music Room
at Hotel Singer-Polignac in
Paris, France