Introduction
The Great Hall | Odeon | Oratorio | Jewel Box | Music Salon
JEWEL BOX
The Jewel Box, with a seating capacity of 200, offers the intimacy of a smaller performance room. Offering presenters a stage platform that can be reconfigured as needed, the Jewel Box is a perfect space for small ensemble music, spoken word, comedy, experimental theater, lectures, business functions, and receptions.
Inspired by Haydn's music room in Fertőd Hungary, this hall evokes the feeling of sitting in a classically inspired room as opposed to a manufactured performance hall. The space emphasizes the frankness of architecture—there are no balconies or formal staging mechanisms—and is designed to capture the feeling of a "first anteroom," a rectangular-shaped room typically found in the sequence of state-rooms in a European palace. In this respect, the Jewel Box gives the audience an opportunity to experience an acute level of intimacy and interaction with the performer, and the superb acoustics of this space helps the audience feel enveloped by sound.
The Jewel Box is a perfect space for small ensembles and intimate performance genres, such as string quartets, comedy troupes, jazz ensembles, and cabaret performances. In addition, the Jewel Box has the potential to house black box drama and performance art, as well as lectures, seminars, press conferences and functions. This hall also makes an excellent ballroom for banquets and celebrations.
Studied sites for the Jewel Box in addition to Haydn's music room in Fertőd, Hungary, include Thomas Mace's design for the "musik-roome," the Sala de Marmi, Palazzo Barberini, Rome, and the First Chamber of Deputies, Palace of Justice, Paris, and a room in the papal palace in Avignon. These halls are noted for their acoustics for smaller ensembles. Historically, Jewel Box-type rooms come as a result of active development in small-scale ensemble forms. Examples include the string quartet in Fertőd, secular motet in Avignon and Paris, and the Baroque soloist and continuo in Rome.
The Jewel Box's unique features set the tone for creativity and improvisation, fostered by close proximity to the audience. One example is the folk art form flamenco dancing that originated in the homes and caves of gypsies in Andalusia Spain. As the dance form became popular, it was performed in cramped cafés. Requiring only a single musician and dancer, this art form truly comes alive in intimate spaces, allowing for the performers to improvise as they interact with the audience. Here one can experience the nuances of this haunting dance form—the dancer's breathing, the beads of perspiration on her forehead, the rhythmic connections between guitar and shoe heels, the facial expressions of pain and anger that are germane to flamenco's history. Such nuances would become casualties of space if the performance were viewed from the distance of a balcony or mezzanine, and in a larger space, the dancer would merely be dancing
for
the audience, rather than
with
the audience.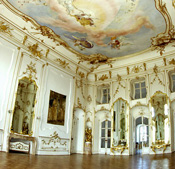 Interior shot of Haydn's
music room in Fertőd, Hungary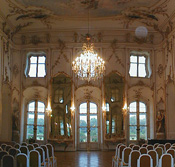 Interior shot of Haydn's
music room in Fertőd, Hungary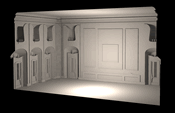 Acoustical model of
Jewel Box